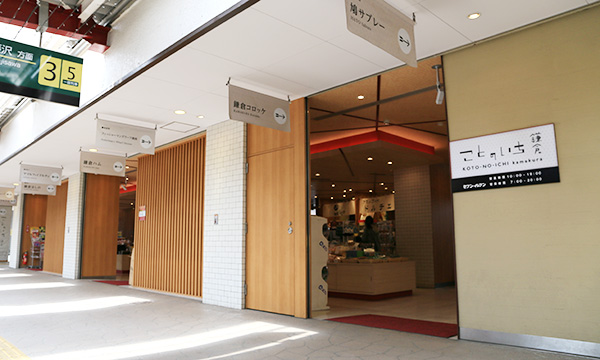 "KOTO-NO-ICHI Kamakura" is a shop in Kamakura Station that sells various local Kamakura products.
A large lineup of Kamakura products and souvenirs, including "Hato Sable"(pigeon shaped butter cookies), and various "Enoden goods" popular among children, is on offer.
Be sure to drop by at "KOTO-NO-ICHI Kamakura" at the end of your Enoden wayside stroll.
KOTO-NO-ICHI Kamakura Details
Address
Enoden Kamakura Station Concourse (Not accessible from outside the station)
Tenants
Toshimaya (Hato Sable)
Fisherman's Wharf Shonan
Kamakura Hamu
Kamakura Hoshino (Japanese sweets)
Kamakura Kurokke
Enoden Goods Shop
7-Eleven (convenience store)
Business hours
10:00~19:00(* 7-Eleven: 7:00 to 20:00)